Upgrade Your Home's Walls: From Paint to Wallpapers with Expert Interior Designers in Kasaragod and Mangalore
Home is somewhere where you belong and where you are yourselves. So, wouldn't you like that place to be beautiful? Of course, you would. Your walls, furnishings, and interiors play a major part in making your home stand out. Many say that our homes or rooms reflect our personality, and they can even affect our moods.
Walls are a major part that everyone focuses on in beautifying one's house. Some use different colors of paint to beautify the walls, while, today, the majority uses wallpapers. The trend has shifted from old-fashioned painting to the installation of wallpapers. As they say, our homes reflect our personality, so obviously one has to choose the best designs for their wallpapers. But is that the only aspect that should be considered while opting a wallpaper for your home? No, it isn't. You also have to check into its materials, application, and durability. To make those decisions easy for you, how about we give you a clear sight of things that concerns you?
Paper Wallpaper

If you are looking only for the cheapest ones, these are the ideal choice. But as it is cheap it does have some disadvantages. Like others, this isn't as elegant, and its durability is low. But installations are an easy and comfortable task.
Vinyl Wallpaper
This wallpaper with a plastic coating on the top and paper layer backing is one of the most popular wallpapers there is. They are highly durable. If installed, you don't need to be worried about stains as it is water-resistant and easily washable. But there are a couple of disadvantages too. It is expensive and requires replacement every 10 years or so as it releases toxic fumes.
Vinyl Grass-Cloth Wallpaper

Vinyl grasscloth wallpaper is ideally suitable for attracting people's eyes as it looks like natural grass, but they are machine-made. It has a fabric backing that lasts many years and it can be washed making it ideal for any room. They are easy to install and remove and it even has a few types that can be painted.
Natural Grass-Cloth Wallpaper
It is a beautiful wallpaper with a paper backing and a layer of wine or grass on top. As its grass layer is stuck with glue it is difficult to work with. And also, you should be careful while installing it as there is a risk of getting stained. Its installation and removal are a little tricky, but it's worth the work you put in.
Flock Wallpaper

This wallpaper gives a luxurious sight to your walls. It has a paper backing and texture like suede or fuzzy velvet. It is unable to wash its old models, but its new models can be washed with moist clothes. You must give serious attention while installing because there is a high chance of its surface getting stained.
Wood Wallpaper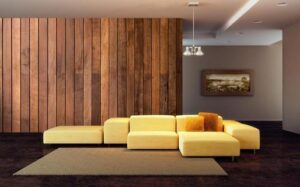 Are you looking for an environmental accent to your home? Then, wood wallpapers are the best choice. You can bring an environmental accent to your home without spending much money on real wood. They are relatively rare as it is made of wood veneer which is not found in most houses.
Fabric Wallpaper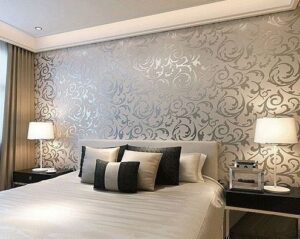 This is another of the wallpapers that give a luxurious touch to your walls. It is made of different fabrics like cotton, silk, raffia, felt, linens, feathers, or twines. It is even fire and stain-resistant that making it even comfortable for any house. But there are quite a few disadvantages for fabric wallpaper. It is expensive and requires maintenance, and also it is quite complicated to work with as it needs to be stretched a little.
Mylar Wallpaper

It has a paper backing and is only suitable for well-conditioned walls. It's washable as its design is covered with a thin film of polyester. It's easy to remove but while installing you should be careful as there is a chance of getting stained. Using it in rooms that receive less sunlight gives mylar wallpaper its actual alluring touch.
Embossed Wallpaper

This type of wallpaper gives a touch of depth and contrast to your walls. It has a paper backing with its design pressed onto it creating a raised and textured effect. It is washable and easy to paste.  Although it is easy to remove, you may damage the plaster under it if you don't remove it carefully. It helps to cover most of your wall's complications like cracks or scratches.
There is a variety of wallpapers available in a variety of colors, patterns, and materials. So, finding the best one for your home isn't going to be a cakewalk. Look into every aspect that matters and choose the perfect one for your perfect house.