Maximizing Space: Expert Tips from Top Interior Designers in Kasaragod and Mangalore for Decorating a Small Living Room
Every living room layout is different and there are lots of ways to decorate a small living space. If you're struggling with the small space, then here are my few tips on styling your dream room.
Install Smart Lighting

Choose lighting that can be either attached to the walls or hung from above to save floor space in the room. 
Make the right sofa choice
 When you're planning to decorate a small living room, start with the most important item: the sofa. This can either make more space or even break the space. A small profile is very important, I mean it should feel visually light in the room. Avoid sofa's with thick arms, avoid high arms, and avoid a high back. Also, make sure your sofa doesn't hit the ground. Keep a sofa with thin legs, with air flowing underneath. 
Choose
A Large Rug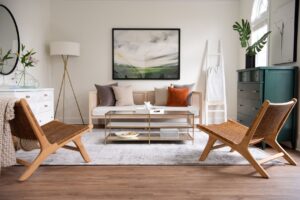 When decorating a small living room, a lot of people think that a small rug is a way to go. But it's the opposite. Rolling out a small rug along the length of your sofa, You trick the eye into thinking that the living room doesn't go beyond the border of the rug. Choosing a larger rug with a bold pattern is a trick that makes a room feel bigger.
Introduce a Mirror 
Placing a mirror on a wall in your small living room helps bounce light around the room, which makes the room look even bigger and brighter. Also, the other benefit of placing a mirror on a wall near a window is to reflect what's going on outside. 
Paint Your Walls White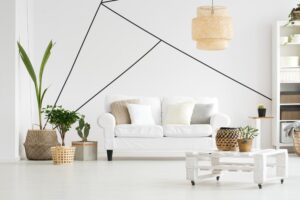 Keep walls and ceilings all white or other warm shade to brighten up the space.
Float Your Media Center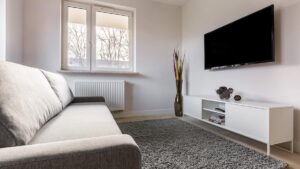 If you are looking f to free up floor space, avoid a big and bulky tv unit. consider a floating media center. Start by mounting your TV to the wall and attaching floating shelves above and below the television This is a space you can personalize and make your own.